How To Grow Sweet Peppers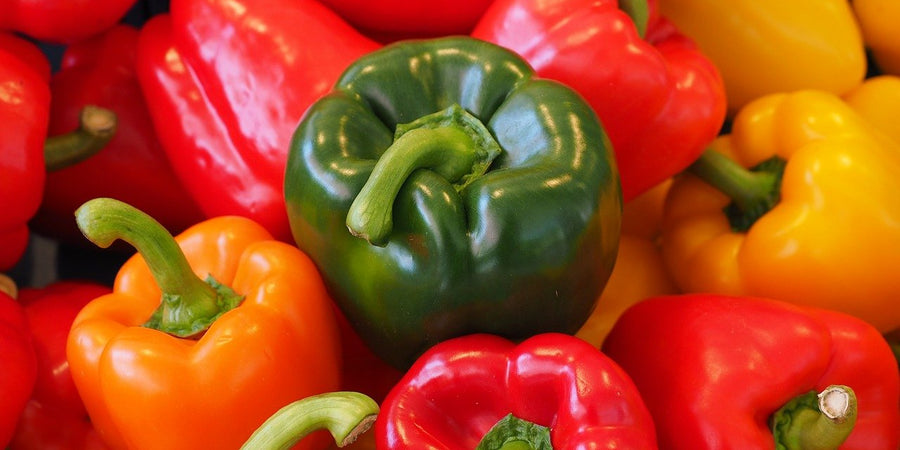 Sweet Peppers, also known as Capsicums or Bell Peppers, originated in Mexico, Central America, and South America. Sweet Peppers were named by Christopher Columbus and Spanish explorers who were searching for peppercorn plants to produce black pepper. Columbus took samples of a wide variety of peppers back to Europe where they became popular.
Sweet Peppers grow well in a greenhouse but can also thrive outside if placed in a warm sunny place.
Here's Our Guide to Growing Sweet Peppers:
How, Where & When to Grow Sweet Peppers
Sow seeds from mid-February to early April in pots or seed trays. They will need a constant temperature of around 18-21C so a propagator or heat mat will be required. Transfer seedlings to 9cm pots when two true leaves have formed, and then in to 15cm pots before moving to their final spot.
Sweet Peppers can be grown in pots, growbags or the greenhouse border. They are sensitive to cold do they will require a warm sheltered place. AS Sweet Peppers can grow quite tall c.60cm, it is best to stake them as the weight of fruit could damage the plant.
Regular Care
Water regularly and feed with a high potash liquid fertiliser once the first fruit has set. Mist the plants regularly to avoid the onset of red spider.
Harvesting Sweet Peppers
Pick the fruit when it reaches the desired size when it is green and glossy. Sweet Peppers change colour as they mature, going from green through to yellow and red, variety dependent.
Nutrition
Sweet peppers are an excellent source of vitamin A, vitamin C, and potassium. Sweet Peppers also contain a healthy dose of fibre, folate, and iron. Along with being full of nutrients, Sweet Peppers deliver a satisfying and low-calorie crunch with every bite.
Culinary
How do you like your Sweet peppers…grilled, stuffed, raw, or stir-fried? Super tasty when lightly fried, so they keep a crunch, for Fajita's…The Italians love stuffing them with anchovies and artichokes and then roasting them in the oven… liven up bangers and mash and cook them with the sausages in the oven along with red onion. Delicious!
Growing Guides
If you're thinking of sowing other vegetable and herb seeds, discover more of our growing guides.
Buy Sweet Pepper seeds today: