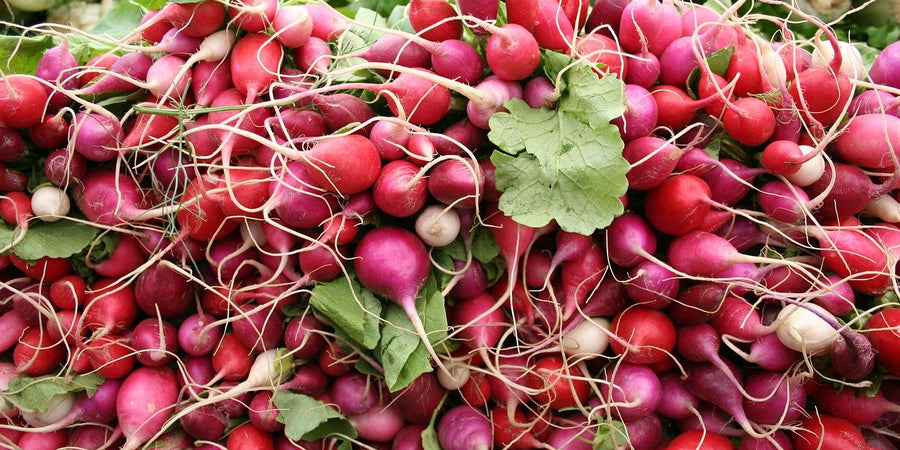 You know its spring when all gardeners' talk about is getting Radish seed into the soil. Homegrown Radishes are fresh and spicy with an early variety producing a harvest between 3 and 6 weeks. Radish is not just for summer salads, there are varieties for winter too such as Daikon, also known as Mooli. And if you want Radish all year round then you can grow them indoors and use a Sprouting/Microgreen variety.
This salad vegetable does not require a lot of room to grow in. A small pot on a bright kitchen windowsill or a balcony will produce a small but a very delicious homegrown harvest.
Here's Our Guide to Growing Radish: 
How, Where & When to Grow Radish
Radish best grow in moist free draining soil with full sun position provided. Germination takes place within 3 to 5 days as long as suitable conditions are provided. Sowing successionally every 2 to 3 weeks will ensure a crop through the growing season.
Start seeds in modules under cover, early spring, planting out after all signs of frost has past. Or direct sow in drills 1cm deep, late spring with cloche cover provided. Radishes are also used as a catch crop, being sown in between rows of slower growing vegetables.
Distance
Thin out seedlings to 3cm between plants.
Regular Care
Keep soil moist at all times to encourage rapid growth of roots as well as cover with environmesh to keep flea beetle at bay.
Harvest
Radishes need to be harvested young in order to ensure that they remain juicy and succulent, if left too long to harvest they become woody. Ready to harvest from 3-6 weeks from sowing with winter variety taking 8 to 10 weeks.
Nutrition
Radishes are High on Nutrients: Red radishes are packed with Vitamins E, A, C, B6, and K. Plus it's high on antioxidants, fibre, zinc, potassium, phosphorous, magnesium, copper, calcium, iron and manganese.
Culinary
There is more to the Radish than just salads…try roasting them with bacon and chives for a great accompaniment to a roast chicken dinner…use the leaf as well as the fruit and make a light summer soup sprinkled with caraway seeds…slice or grate on to a risotto to bring a wonderful peppery back note.
Growing Guides
If you're thinking of sowing other vegetable and herb seeds, discover more of our growing guides.
Buy Radish seeds today: