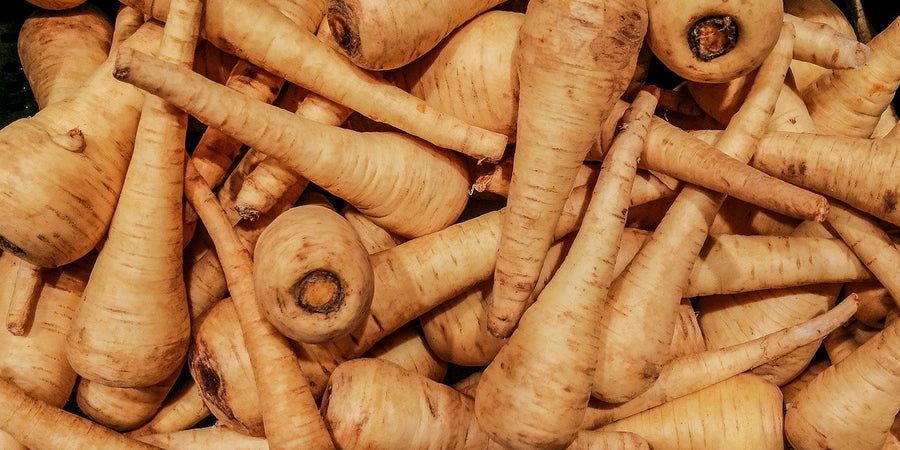 Parsnips are an exceptionally outstanding hardy root requiring a long growing season that can be grown in any part of the country as long as its need for soft friable soil for the long-root variety to create straight tap roots is provided.
Home grown and particularly after first hard frost the sugars in these roots give a distinctive sweet taste.
Here's Our Guide to Growing Parsnip:
How, Where & When to Grow Parsnip
Parsnips need open sunny site with light soil that will allow the taproot to grow long and straight. Sow seeds sparingly in a watered shallow drill 13mm deep in rows 30cm apart in spring when the soil has warmed up. It's best to warm the soil up prior to planting using cloches. Leave cloches in place until the first true leaves have appeared. Warm soil conditions will provide a successful germination rate of 10 to 14 days.
If you have struggled with successfully growing Parsnips then it could be down to two reasons: the first is using old seed, Parsnip seeds are only viable for a year so you must buy fresh seed, and the second reason is if you live in the North of the country and are sowing in cold wet soil, then that will hamper germination too. So here is an alternative way - sow the seeds in paper pots which are kept in a propagator at 17ºC for 7 days. 17ºC soil temperature is an ideal temperature for germinating parsnips. Then plant out the pots whether you can see any germination or not.
Fungal canker disease usually starts around the shoulders of the root,  appearing as rust coloured rotting patches. Causes are damage, rich soil, and wet or dry growing conditions. Parsnip Gladiator as they are canker resistant. 
Distance
Thin out seedlings when they are 2.5cm high leaving 10-20cm between plants depending on the smaller or larger roots to harvest.
Regular Care
Water sparingly to encourage deep rooting and do not feed or add further mulch as rich soil can cause canker in roots.
Harvesting Parsnip
Dig up roots late autumn onwards once the foliage has started to die back. Parsnips can be left in the soil and lifted as required, slightly frosted Parsnips tend to produce the best flavour.
Nutrition
Parsnips are an excellent source of many important nutrients, packing a hearty dose of fibre, vitamins, and minerals into each serving. In particular, parsnips are a great source of vitamin C, vitamin K, and folate, as well as several other important micronutrients.
Culinary
It's easier to say what you can't do with a Parsnip…They can be baked, sautéed, steamed, mashed, pureed, roasted, used in stews and fried…phew! Parsnips are a classic ingredient in many soups think Parsnip and Cauliflower soup…create a mouth watering honey mustard Parsnip and potato bake…if you want to soften and lighten a pudding then try adding to Sticky Toffee, yes really!
Growing Guides
If you're thinking of sowing other vegetable and herb seeds, discover more of our growing guides.
Buy Parsnip seeds today: