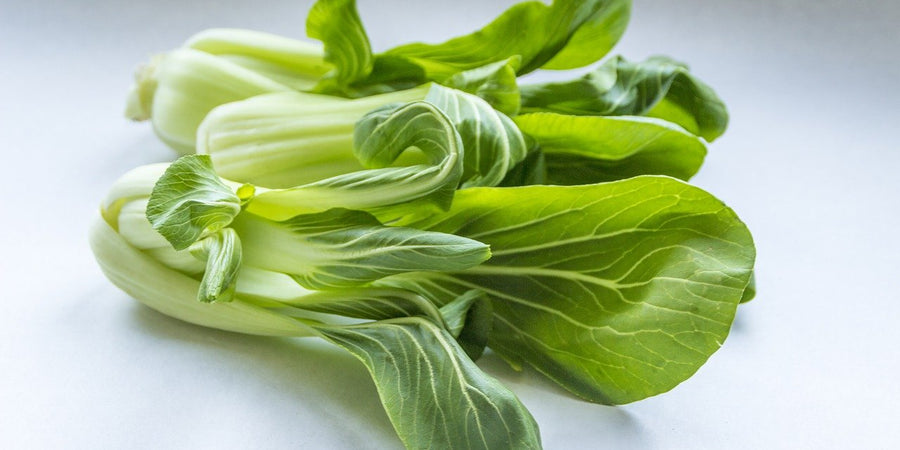 Pak Choi also known as Bok Choi, is a close relative to Chinese Cabbage, which looks like a squat chard with wide white or pale green chucky stalk and glossy green leaves growing from a centre to form an erect clump of leaves.
Very popular in far eastern dishes and best used raw in salads or lightly seared in stir-fries, making use of all parts leaves, stem and flowering shoots.
How To Germinate & Grow Pak Choi
How, Where & When Should You Grow Pak Choi?
Although Pak Choi is cool season crop, it can be grown during the summer months as long as shade and a layer of mulch around the plants is provided. In a constraint garden situation, these plants can be grown in small pots and containers. Early spring sow seeds under cover 1cm deep in seed or module trays. Seeds do not take long to germinate, 5 to 7 days and soon ready to thin out. Thin out to one per module.
Distance
Direct sown or planting out at 10cm between plants for small pickings or 15cm for larger plants.
Regular Care
Protect early outdoor sowing with horticultural fleece and set beer traps for slug pest control. Set up fine netting to protect plants against flee beetle attack which leave nibbled holes on leaves.
How To Harvest Pak Choi?
As baby-leaf c.30 days from sowing, and when plants are semi-mature and stand 15cm tall with a small heart of leaves formed in the centre. Harvest a few leaves at a time or cut with sharp knife at base of plant.

If you notice any of your pak choi plants producing broccoli-like florets, don't panic. You can still eat them. In fact, they are great tossed in a stir fry. You can also try cutting the pak choi as a cut-and-come-again for another harvest in a few weeks. Just cut them off approx 3cm above the base and they should re-grow.
What Is The Nutrition Of Pak Choi?
With vitamin C, carotenoids, manganese, and zinc, pak choi provides us not only with core antioxidants, but goes beyond this to a wide range of other phytonutrient antioxidants, like quercetin, kaempferol, and isorhamnetin.
What Can I Eat Pak Choi With?
Pak Choi is a versatile veg…it can be eaten raw as a baby-leaf in salads, either sliced or kept whole and steamed, or more traditionally stir-fried such as Teriyaki salmon with sesame Pak Choi.
Growing Guides
If you're thinking of sowing other vegetable and herb seeds, discover more of our growing guides.
Buy Pak Choi seeds today: