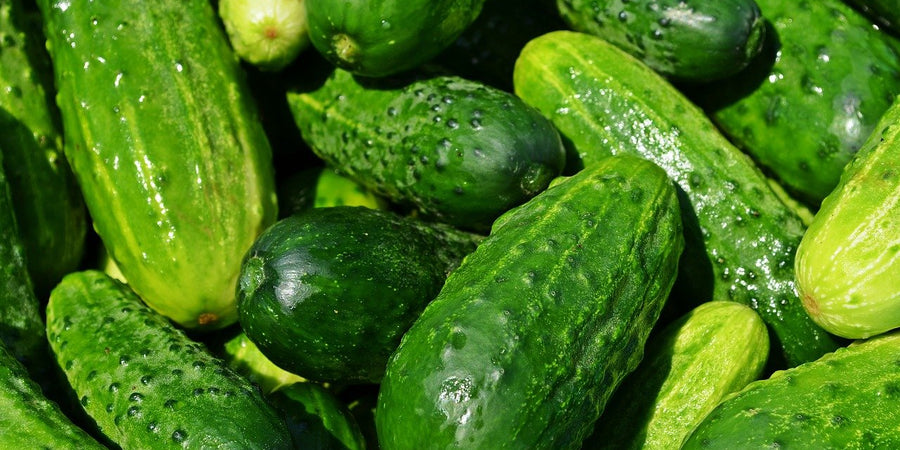 Cucumbers are crunchy summer delights make their origins in northern India, and travelled into Europe well before Christian era. Cucumbers are in the same family as marrows and squash, the cucurbits – cucurbits, members of the Cucurbitaceae.
2 types of cucumbers are available and must be grown that way. Ridge cucumbers with knobbly skin, best perform outdoors as they need pollinators to make fruiting successful. Frame or greenhouses cucumbers are self-pollinating; these will grow more successfully in protected environment.
Here's Our Guide to Growing Cucumber:
How, Where & When to Grow Cucumber
For indoor crop start seeds in early spring (late Feb early March); sow 2 seeds on their side 1cm deep per small pot in a heated propagator at a temperature between 20-27C, germinating in 5 to 7 days provided conditions are met, whilst outdoor variety of cucumber, seeds should be sown 2.5cm deep late spring under cover with successful germination taking 7 to 10 days. Planting outdoor variety, takes place after last frost. Planting position should have rich humus added with moisture retentive properties and support should be provided to both growing positions.
Distance
Spacing of 45cm between plants for both indoor and out door growing situations. This will ensure productive plants, provided plant support is also in place. When the main stem has reached the greenhouse roof, pinch out the tip. Pinch out the shoots from side branches holding fruit, leaving two leaves after each fruit. All female varieties produce fruit on the main stem, so remove the laterals altogether.
Regular Care
Keep plants watered with indoor variety watered daily, avoid wetting the base of the Cucumber stem as this can cause stem rot. On the onset of first flower start high potash feed every 2 weeks. Important to remember to remove all male flowers from indoor cucumber variety, keeping them will only result in bitter fruit. Protect plants against slug pest and provide mulch to conserve soil moisture.
Harvest
Harvest fruit depending on variety grown, typically from June – October. Harvest the first fruits small as this encourages production of more fruit. Do not leave mature fruits on the plant as this will inhibit growth of new fruit.
Nutrition
Cucumbers are low-calorie veggies containing many nutritional benefits, including hydrating properties and valuable nutrients. Cucumbers are good sources of phytonutrients (plant chemicals that have protective or disease preventive properties) such flavonoids, lignans and triterpenes, which have antioxidant, anti-inflammatory and anti-cancer benefits. Cucumbers are naturally low in calories, carbohydrates, sodium, fat and cholesterol.
Cooking
So what can you do with a Cucumber that doesn't involve salads or pickling them? Try making a Raita for a cooling yoghurt dressing to accompany spicy Indian food, or a super summer soup made with Tomatillo and Cucumber for a refreshing and zingy Gazpacho, or simply replace the lemon in your G&T!
Growing Guides
If you're thinking of sowing other vegetable and herb seeds, discover more of our growing guides.
Buy Cucumber seeds today: