How To Grow Florence Fennel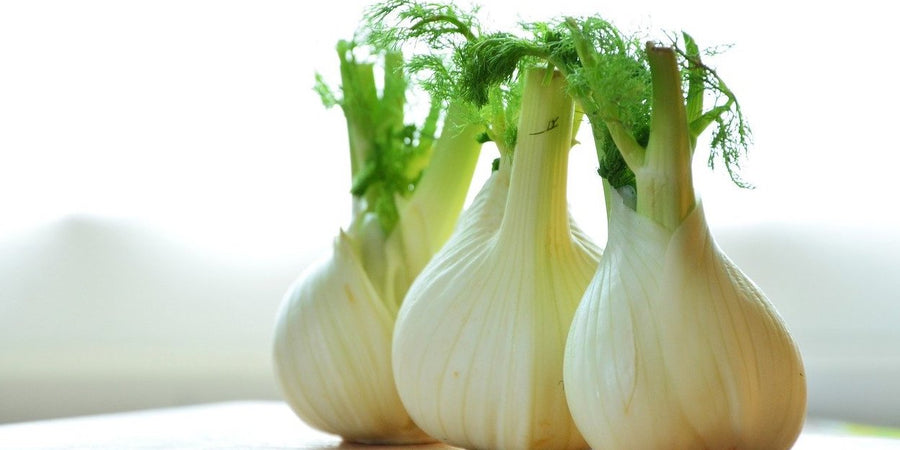 Florence Fennel should not be mistaken for bronze fennel herb, which produces fennel seeds on much taller plants (6ft and taller). Florence fennel is no more than 3ft tall and produces aniseed flavoured white swollen stem at the base of the plants.
Its feathery light green frond-like leaves are edible too. Whilst the bulb goes particularly well in a base sauce for pasta; the leaves and bulb can be baked with fish evoking taste buds of alfresco holiday meals.
Here's Our Guide to Growing Florence Fennel:
How, Where & When to Grow Florence Fennel
Florence fennel is prone to bolting, to avoid root disturbance sow seeds in late spring, 2 seeds per small pots, germination takes place between 5 to 7 days provided suitable conditions are met; remove weaker seedling with final planting after last frost has past; planting out in a sunny sheltered position with rich moisture retentive organic matter provided. The plants dislike root disturbance. Sow in cooler climates or, for early crops, better to sow in modules as single seedlings to avoid root damage. Plant out modules as soon as possible once the roots fill container from April, 'harden off', then plant out once the soil is warm and there is no danger of frost, from early May onwards.
For outdoor sowings sow directly into the soil, 1.5cm deep in rows 30cm apart, thinning to 30cm apart in the rows when the soil is warm from May to early July. Use bolt-resistant cultivars such as Zefa Fino up to to mid-July sowings.
Distance
Final space the seedlings 30cm apart between plants and rows.
Regular Care
Fennel is prone to bolting; therefore keep the plants mulched and water regularly, feed with a high potassium fertiliser every two weeks. Earth up the swollen stem to blanch, this process makes them sweeter.
Harvest
Fennel is ready to harvest 12 weeks from sowing when stems are the size of a tennis ball.
Nutrition
Florence Fennel has some noteworthy essential oils, flavonoid anti-oxidants, minerals, and vitamins that have been known to offer health benefits. It's a low-calorie vegetable; 100 g bulb carries just 31 calories. Florence Fennel contains generous amounts of fibre but little fat, and zero cholesterol. The bulbs have moderate amounts of minerals and vitamins that are essential for optimum health. Their sweet fronds hold several vital vitamins such as pantothenic acid, pyridoxine (vitamin B-6), folic acid, niacin, riboflavin, and thiamin in small but healthy proportions.
Cooking Florence Fennel
Florence Fennel has the cool crunch of celery with a strong note of licorice when you take a bite. It is lovely sliced thin and served with Parmesan in a salad, luscious and filling in a cheesy gratin, and absolutely delicious roasted in olive oil and balsamic vinegar.
Growing Guides
If you're thinking of sowing other vegetable and herb seeds, discover more of our growing guides.
Buy Florence Fennel seeds today: