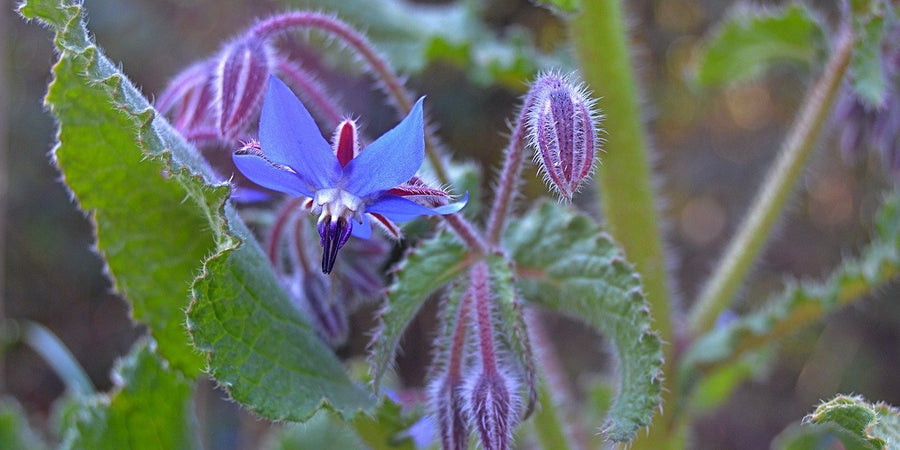 Borage is a 'must grow' herb in any kitchen garden, as it not only carries edible flowers and young leaves but also makes for a wonderful planting companion for many vegetable and flower plants alike. Borage is not a very tall plant; what it lacks in height, this plant makes it up with beautiful heavy clusters of star shaped blue flowers which hang on a rather stiffly hairy stem from late spring inviting pollinators and beneficial insects into the garden right until first frost.
Here's our guide to growing Borage:
How, Where & When to Grow Borage
Borage prefers to grow in light fertile soil and in full sun. They also dislike root disturbance, therefore it's best to direct sow them the previous autumn or sow direct from April to July, sow thinly and just covering the seed before watering well. Germination takes 7 to 14 days when suitable conditions are reached, higher germination rates are achieved when temperatures are between 15-25C, so early sowings should be covered with a cloche.
Distance
Due to its wide branching habit space between plants should be 45cm.
Regular Care
Due to the plant producing heavy blooms of flowers on every branch, staking will be necessary to support the plant. Apply a weekly feed of high potash for a flower display throughout the summer.
Harvest
Harvest blue star-like flowers, remove the stamen and use as garnish in drinks. Young tender leaves of borage have a cucumber-like flavour and leaves can also be dried and frozen too.
Culinary
Borage isn't just for the bees…it makes a great summertime lemonade drink…combine with seasonal peas and mint and make a wonderfully light summer soup…chop and sprinkle on salads for a different take on the cucumber. Oh, and they taste great too in a Pimms cocktail!
Growing Guides
If you're thinking of sowing other vegetable and herb seeds, discover more of our growing guides.
Buy Borage seeds today: