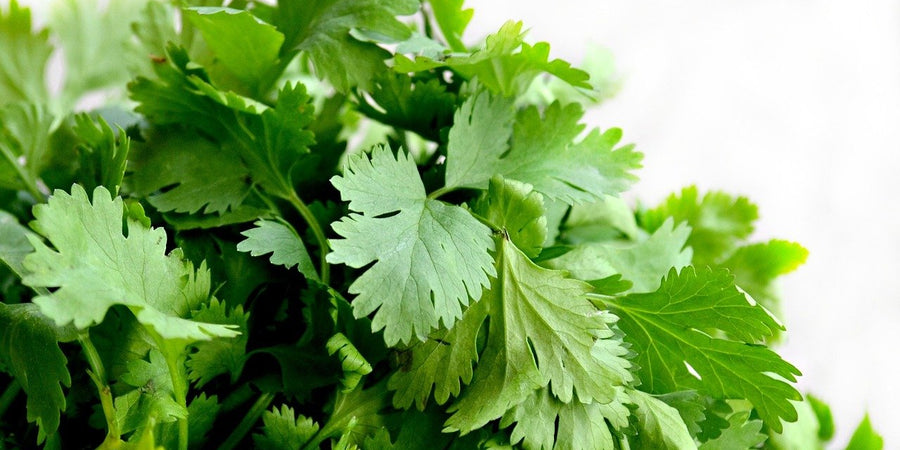 Coriander is also known as Cilantro, a rigid annual with a distinctive lemony flavour. A popular culinary herb that will not fail to grow so a great introduction to growing herbs for novice gardeners introduced to kitchen gardening.
As for its uses; the tender flat leaves are used in asian curries but once the plants throws attractive umbels of white flower on tall stalks, this display invites friendly pollinators after which the dried seeds are collected and used as a dried spice.
Here's Our Guide to Growing Coriander: 
How, Where & When to Grow Coriander
For best results, start seeds by sowing direct in moist shallow drills in late spring, with germination taking 7 to 14 days when suitable conditions are reached. Growing area should be incorporated with well-rotted compost and a cloche frame placed should the weather turn. Can be grown in either full sun or partial shade.
Distance
Thin out seedling to 5cm for leaf production and 20 -25cm for seed production.
Regular Care
Do not allow the growing area to dry out, water regularly; keep competition down by area kept well weeded and provide humid conditions for plants to thrive.
Harvest
Harvest frequently to allow plants to produce new growth.
Culinary
When you have a glut of Coriander and carrots it calls for one thing…soup! Another summer favourite is to combine Coriander with lime and mix in to butter which goes great on bbq'd meats, especially steak…instead of traditional Basil Pesto, try Coriander Pesto.
Growing Guides
If you're thinking of sowing other vegetable and herb seeds, discover more of our growing guides.
Buy Coriander seeds today: