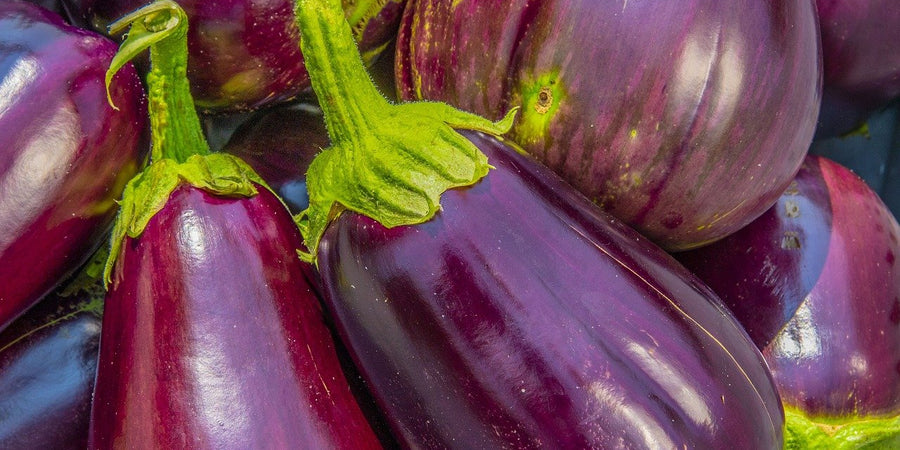 Aubergine is a tender tropical plant originating from the South American continent and belongs to the same family as tomato and potato. Like tomato require a long growing season, and with our temperate climate perform well in glasshouses.
Originally plants produced white fruit, hence the name eggplant. More common to see are purple and mottled fruits, with the white variety now a heritage or heirloom variety to grow.
Here's our guide to growing Aubergine:
How, Where & When To Grow Aubergine
Start evenly spaced seeds either in late winter in seed trays or 1 seed per coir pellets placed in heated propagator - ideal temperature 20-25C a constant temperature is best, a propagator can help with this - or in early spring in protected environment. Use sterile seed sowing media, with germination taking place 14 to 21 days. Pot on when true leaves appear, into 7cm pots using John Innes No 1. Later moving plants into 9cm pots using John Innes No 2. Pinch out when plant reaches 30cm to encourage side shoots producing more fruit.
Distance
Final planting takes place in glasshouse or sunny sheltered outdoor positions after all threats of frost has passed. Plant out 60cm apart in well-drained fertile soil or in containers or grow bags.
Regular Care
Keep a watch over slug pest and if growing under protective conditions, white fly, aphids and spider mite are likely to be a nuisance. Provide adequate ventilation and raise environment humidity too.
Botrytis is common in poor wet conditions. Remove infected leaves/fruit and improve airflow. Water regularly as the summer temperature rises. On the onset of flowers, start a weekly feed of high potash based feed until the last flush of harvest.
Harvest
Fruits are ready to harvest early summer and at their best when full colour (true to type) is achieved and shiny skin all around. You can tell if an Aubergine is ripe by looking under the calyx - the greeny-purple star where the fruit joins the stem. If the skin is pure white, the fruit is ripe; if it is tinged green, wait a few days before you use the fruit.
Aubergines are delicious on the barbecue or in a curry or ratatouille. Branch out and try unusual aubergine recipes from a veggie main of roasted aubergine with salsa, to heavenly fried aubergine chips and try a new spin on the classic moussaka and go vegetarian mousakka!
Aubergines contains many health benefits; they are an excellent source of dietary fibre. They are also a good source of vitamins B1 and B6 and potassium. In addition it is high in the minerals copper, magnesium and manganese. Aubergines are rich in antioxidants, specifically nasunin found in aubergine skin - which gives it its purple colour.
Growing Guides
If you're thinking of sowing other vegetable and herb seeds, discover more of our growing guides.
Buy Aubergine seeds today: