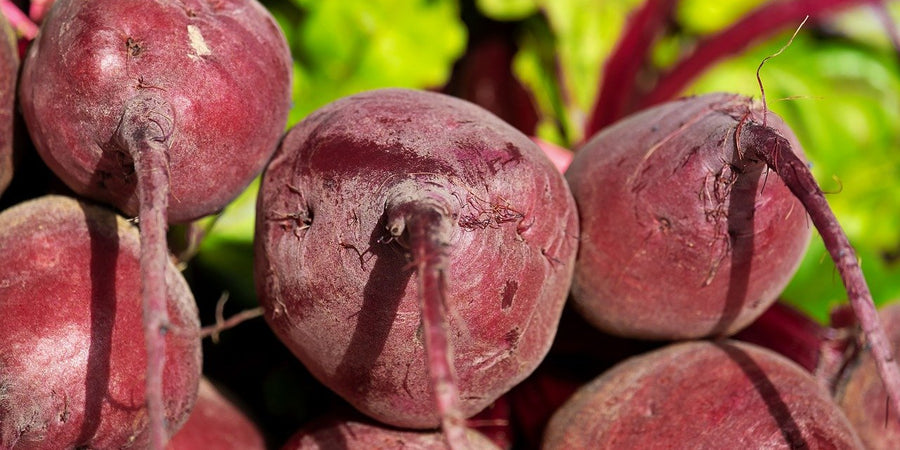 Beetroots are ancient vegetables that Greeks and Romans grew, not for its swollen root but for its leaves. In Romans times, Apicius, (a collection of roman recipes) recommended beetroot as a laxative. This vegetable helps fill the hunger gap period, when fresh produce harvest is low between March and June, beetroot leaves can be harvested and used as spinach and later when swollen root is golf ball size harvested and added to meals.
Here's our guide to growing Beetroot:
How, Where & When to Grow Beetroot
Beetroots grow best direct sown in fertile soil, which has been improved with well-rotted compost. Soak seed in warm water for half an hour before sowing. Sow three seeds at 10cm spacing, 3cm deep in rows 30cm apart, at fortnightly intervals from mid-April to July for a succession of tender, tasty roots. Early spring sowing will benefit from a cloche cover to speed up germination with final sowing made early August. Beetroot sown from June onwards can be used for storing in winter.
Beetroot will fit anywhere in crop rotation making it a good catch crop to grow.
Distance
Sow direct in drills 3cm deep, with rows 30cm apart. Upon germination thin out seedlings to 10cm. Thinnings can be replanted or used in salads.
Regular Care
Beetroot is a no fuss vegetables; however during the growing season leaf miner attack is possible. The larvae feed within the lamina, causing brown blotches. Remove and destroy all affected leaves immediately. Keep up with watering to prevent roots becoming woody, and generally keep area well weeded.
Harvest
Depending on variety harvest Beetroot after 7 to 8 weeks when golf ball size; pick sparingly to avoid checking growth and sow seeds every 2 or 3 weeks to provide a harvest throughout the season and to store.
Beetroot have been associated with many nutrient boosting health benefits including improved blood flow, lower blood pressure, and increased exercise performance. They are low in calories, yet high in valuable vitamins and minerals and are a great source of fibre, folate (vitamin B9), manganese, potassium, iron, and vitamin C. In fact, they contain a bit of almost all the vitamins and minerals that you need in your daily diet.
Beetroot is not just for the pickling jar and on salads there are many more creative ways to use this superfood in your recipes. Did you know that it can be used in cake recipes as a way to keep cakes super moist and delicious…what, you haven't tried Beetroot and ginger chocolate brownies!!!, they can be added to the roast veg tray to accompany the Sunday roast, and if you really want to surprise your dinner guests then try adding Beetroot to tzatziki for an incredible tasty pink dip!
Growing Guides
If you're thinking of sowing other vegetable and herb seeds, discover more of our growing guides.
Buy Beetroot seeds today: