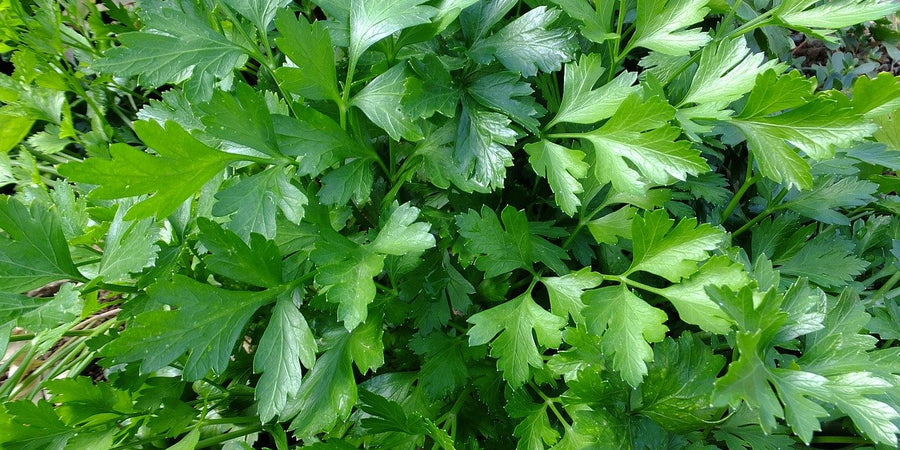 Parsley is a slightly peppery almost anise-like biennial herb and is more commonly grown as an annual herb. Two varieties that are very popular and used in savory dishes are, the flat Italian variety, with its flat compound leaves is more favored for culinary uses than the more robust growing curled leaf cluster of the French variety.
Here's Our Guide to Growing Parsley:
How, Where & When to Grow Parsley
Sow indoors-late spring to avoid carrot root fly attack. Start seeds in modules, with germination taking 7 to 10 days when suitable conditions are met. Another sowing can be done early autumn for winter harvests.
Distance
Allow 10-15cm between flat and curly variety of Parsley.
Regular Care
To keep plants healthy by giving them a regularly feed of high nitrogen liquid feed; as well as keep the soil moist, because drought conditions will only promote flower stalks to appear. Protect plants from slug attack by placing beer traps near plants.
Harvesting Parsley
Harvest whole stems when plants achieve eight to ten stems and harvest regularly to promote new growth from the centre.
Culinary
Parsley is grown for its flavoursome leaves that are used as garnish or chopped in to sauces, butters, dressings and stuffings. It is the star of the show in Salsa Verde and a vital ingredient in Tabouleh.
Growing Guides
If you're thinking of sowing other vegetable and herb seeds, discover more of our growing guides.
Buy Parsley seeds today: