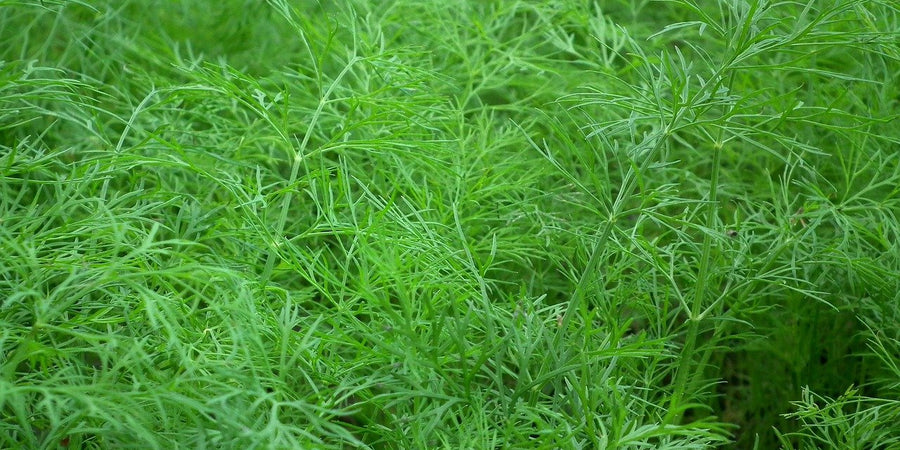 Dill can be mistaken for Fennel; with its tall stems of filigree blue green foliage releasing aniseed flavour with the slightest of touch, and aromatic seeds produced on large yellow umbels, has not only been used as an ingredient for brining but frequently used as an aid to digestion.
Dill does not need to be grown for its culinary use; these plants will make wonderful statement plants on an allotment plot and around gardens alike.
Here's Our Guide to Growing Dill:
How, Where & When to Grow Dill
Sow from mid-spring to mid-summer in well-drained poor soil where they are to grow after all threats of frost have past. Sow seeds in shallow drills with germination taking 7 to 10 days. Dill, fennel and coriander may cross-pollinate so grow these three herbs in different parts of the garden.
Distance
Thin out seedling as soon as first true leaves appear to a spacing of 25-30cm between plants.
Regular Care
Keep plants well watered, as drought conditions can lead to plants undergoing stress, causing them to bolt pre-maturely which creates smaller plants with bitter leaves but large blooms. Similarly keep weeds at bay as they compete for water and nutrients. May need to be staked.
Harvest
Harvest fresh leaves during the growing season or gather seeds late summer that can be used for pickling or infusing.

Culinary
Dill can easily take over a recipe, anyone who has visited Scandinavia will be all too familiar with the taste of Dill by the time that they leave! A small amount of Dill can really make a delicious difference to things like salads, yoghurt dressings, and soups. Try making a creamy Dill dipping sauce, it can be spooned over grilled fish and chicken, make a quick coleslaw by adding some shredded cabbage and carrots…or just dunk raw veggies! If you have collected seeds at the end of the season then they can be turned in to spices for use in curries.
Growing Guides
If you're thinking of sowing other vegetable and herb seeds, discover more of our growing guides.
Buy Dill seeds today: