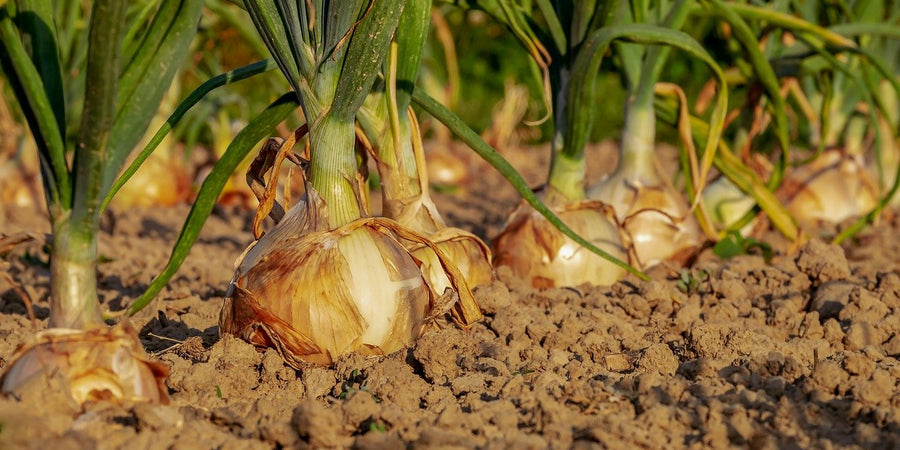 Onions are an indispensable bulb vegetable; one used nearly daily in the kitchen.
Very easy to head start this vegetable growing from sets, but it is just as easy starting onions from seeds, with a wider choice of seed varieties available compared to sets.
Here's Our Guide to Growing Onion:
How, Where & When to Grow Onion
Onions grow well in a sunny, sheltered and well-drained soil, which has had organic matter incorporated in. Starts seed under cover in spring in seed or module trays. Germination can be slow and can take 12 to14 days with some taking 21 days with suitable conditions.
Distance
Seeds can be sown direct outdoors after all signs of frost has past in shallow drills and seedlings thinned out between 10cm to 15cm depending on the size of bulb required for harvest. Seeds started under cover, should be hardened off and planted outdoors after all signs of frost have past.
Regular Care
Seed sown Onions require little attention except regular watering and weeding. A light feed of sulphate of potash in June will help ripen the bulbs ready for storage. Stop watering and feeding once the onions have swollen in mid summer.
Harvesting Onion
Onions can be harvested when the foliage starts to turn yellow and topple over. Lift the bulbs before the foliage completely dies down. Place the lifted bulbs on a rack in full sun outdoors or a well-ventilated greenhouse for about two weeks to ripen. When the foliage is dry and papery, undamaged bulbs can be stored in a light, cool, dry place until needed.
Nutrition
Onions contain natural sugar, vitamins A, B6, C and E, minerals such as sodium, potassium, iron and dietary fibre. In addition, onions are a good source of folic acid.
Culinary
If you find yourself with a glut of Onions then you can simply chop them, and freeze in one layer on a baking sheet and then store in freezer bags…get creative and make Onion jam, a super accompaniment for cheese on toast…and don't forget that classic French Onion soup.
Growing Guides
If you're thinking of sowing other vegetable and herb seeds, discover more of our growing guides.
Buy Onion seeds today: