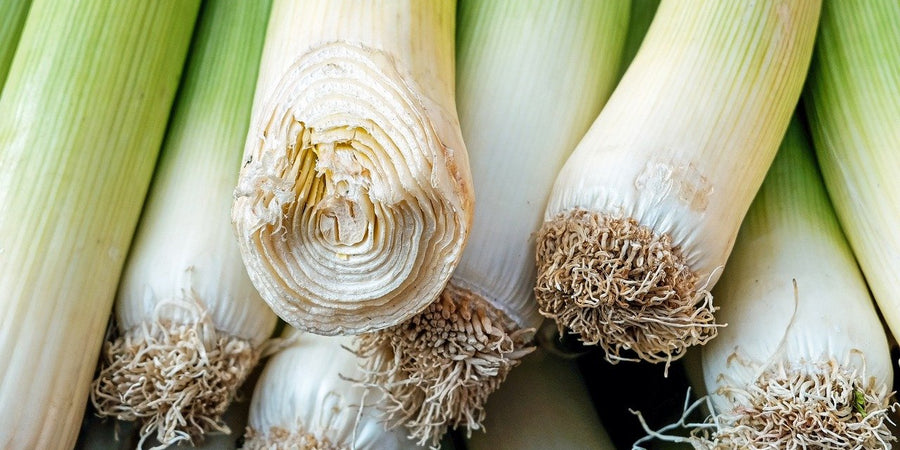 Growing Leeks is a good introduction to any new gardener. You are hardly ever likely to fail and even in the coldest part of the country they thrive. Although leeks are a long season vegetable, the young cylindrical plants can be harvested and added to salads or allowed to mature into thicker blanched stems for winter use and into spring too.
Here's Our Guide To Growing Leek:
How, Where & When to Grow Leek
Although leeks prefer heavy moisture retentive soil, they will do well in a sunny, sheltered well-drained site, which has been incorporated with well-rotted compost the previous autumn. In early to late spring, start seeds under cover in seed trays or modules to a depth of 3cm. Germination can be slow. It can take 10 to 14 days, sometimes up to 21 days, so patience is key at starting these seeds.
Its important to rotate the position where you grow leeks to help prevent a build-up of pests and disease. 
Distance
Once the pencil thick seedlings have been hardened off; plant out after all signs of frost has past. Remove a third of the root growth and using a dibber create deep 15cm holes, with 15cm distances between plants keeping 30cm between rows will help air circulation. Instead of backfilling, as they are watered around the stem allow the water to settle around them.
Regular Care
Weed often around the plants and once established, apply high nitrogen feed from mid-summer to late winter. Water well, during dry spells of summer.
Leek moth and alium leaf miner are two serious pest that attack leeks, causing considerable damage. Growing plants under insect-proof netting to prevent the insects from laying eggs on the foliage is the only way to prevent damage.
Harvesting Leeks
Harvest leeks from early autumn onwards to late spring as and when they are needed.
Nutrition
Leeks are a good source of vitamins A, C and K (important for helping your blood to clot). They also contain minerals such as iron (which is important for red blood cells) and manganese (involved in the regulation of brain and nerve function). Leeks are also a good source of dietary fibre.
Culinary
Leeks are a versatile veg that help create comforting soups…Leek & Potato being a favourite, another super winter delicious winter warmer is Chicken & Leek pie…and if you want really max out on the veg then create a Leek lasagna with kale and ricotta. Delicious.
Growing Guides
If you're thinking of sowing other vegetable and herb seeds, discover more of our growing guides.
Buy Leek seeds today: