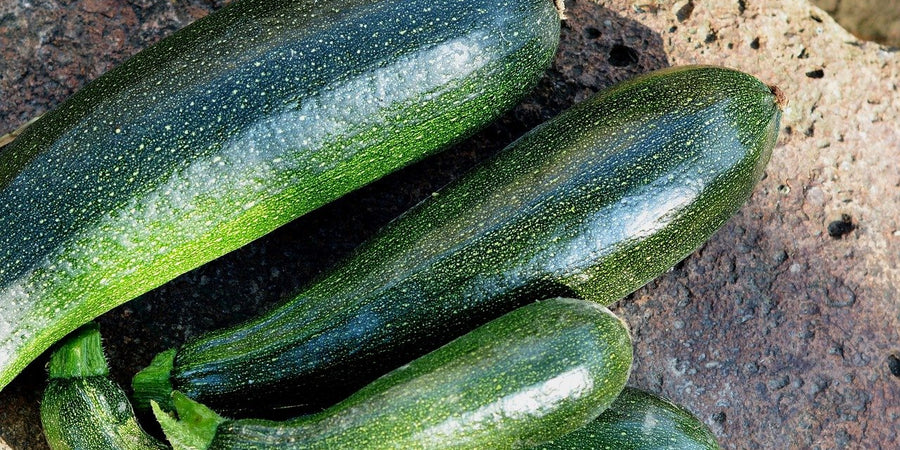 Courgette, also known as zucchini a popular mediterranean fruit, which originally arrived in Europe from Central America where they grow into large marrow. Only become popular over time here after increasing number of people visiting Mediterranean countries wanting to recreate those holiday meals on return.
Courgettes come in a diverse range of shapes, size and several colours to choose from: dark or light green, stripe or even rich yellow coloured fruit.
Courgettes can also be grow in growing bags or containers (at least 45cm wide). Plant one or two per growbag, or one per container. These will need regular watering as they mature.
Courgettes are part of the Cucurbit family that includes: marrows, Squashes, and Cucumbers and are all grown in the same way.
Here's Our Guide to Growing Courgettes:
How, Where & When to Grow Courgettes
Courgette can be grown in beds or in deep containers. Seed can be started in spring under cover; sown in individual 9cm pots to a depth of 3cm. Planting out after all risk of frost has passed, in rich moisture retentive soil. Seeds can be sown direct where they are to grow, once all risks of frost have past. Sow 2 seeds, on their side, per planting hole, removing weaker of the 2 seedlings. Germination success rate for protected or outdoor sowing can take 7 to 10 days before seedling leaves appear, once suitable conditions are met.
Here are a few pointers to help you with courgette success:
Mice love courgette seeds! Make sure you protect them by covering them with mesh
Use potting compost rather than seed compost as they are hungry
When planting out try to protect them from wind cover with horticultural fleece to keep them cosy
Make sure you harden off plants before planting to minimise transplant shock
If you are sowing direct, make sure the soil has warmed first, the seeds may rot in cold damp soil
Distance
Bush variety should be spaced at 60cm between plants and trailing variety can be trained up canes at a minimum distance of 90cm.​
Regular Care
Courgette plants are generally hunger thirsty feeder and with the onset of first flowers, plants will appreciate a routine weekly feed of high potash feed. Create a barrier to keep slug pest at bay and water regularly, water aimed at the base of plant avoiding leaf contact.
Harvest
Fruit should be harvested when no more than 10cm in length using a sharp knife. For marrow size, thin fruits to 2 or 3 per plant, allowing fruit to grow 20-30cm in length.
Nutrition
Courgettes contain a lot of water and are relatively low in calories, which means they're a great way to eat your way to better hydration. They're an excellent choice for dieters, and thanks to their sweet and mild flavour they're an easy way to get kids more hydrated too. Courgettes contain plenty of carotenoids such as lutein and beta-carotene, which can benefit your eye, skin, and heart health. There's plenty of soluble and insoluble fibre in courgettes, which is excellent news for gut health and digestion. Courgettes also contain significant levels of potassium. Most of this is in the dark green skin of the vegetable, so be sure to use the whole thing in your recipes.
Cooking
Courgettes are a summertime favourite that can be transformed in to all kinds of amazing dishes. We love making a Greek frittata with Courgettes and feta cheese, equally tasty is tempura fried Courgettes with a yoghurt dip – this is also a great way of using the Courgette flowers, and a light summer Pea soup can be enhanced with the addition of Courgettes too.
Growing Guides
If you're thinking of sowing other vegetable and herb seeds, discover more of our growing guides.
Buy Courgette seeds today: