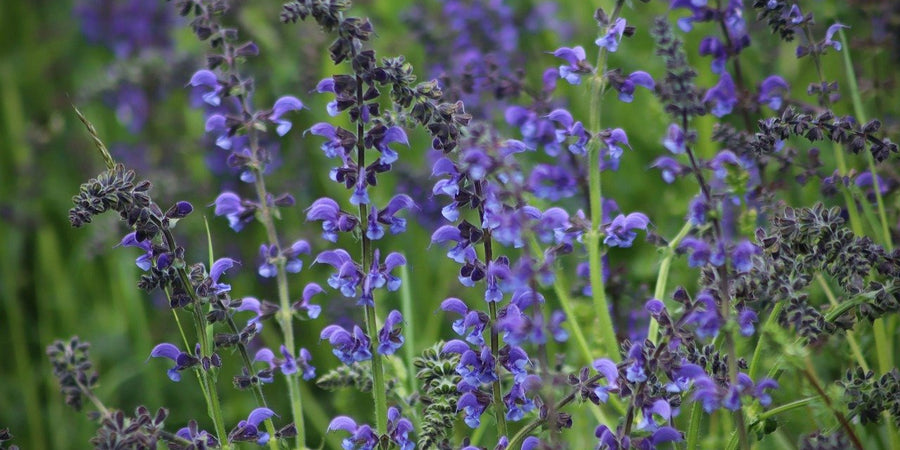 Not only is Sage a hardy evergreen subshrub that is useful in the kitchen; it is a very attractive plant with its large oval grey green leaves and soft felt-like texture. This sensory plant will grow happily and even compliment other plants when grown in a garden border.
Sage is wonderful strong flavoured herb used as a main condiment for meat, poultry and fish dishes but also used in tea infusion as well as making flavoured butter and cheese.
Here's Our Guide to Growing Sage:
How, Where & When to Grow Sage
Sow seeds in spring with base heat placed under the seed tray, which will help speed up germination (7 to16 days). Thin and pot on seedlings into individual pots. Plant out after hardening off, in free draining fertile soil and sage will thrive in full sunlight.
Distance
Allow 60-80cm between plants as this a low growing spreading shrub.
Regular Care
Trim back sage plant in spring and, again after flowering to prevent the plant from becoming straggly. Water regularly but avoid over-watering as Sage dislikes wet roots.
Harvest
Leaves can be harvested and used at any time and for best flavour use fresh. For drying, harvest and gather fresh sprigs in summer before flowers appear and continue to dry out indoors.
Culinary
Sage has a very strong taste so a little goes a long way…it's a popular herb in Italy where they mix it with butter and use it as a dressing for pasta…another wonderful butter recipe is Chicken breasts stuffed with Sage butter…for a burger with a twist try Pork sage and onion burgers!
Growing Guides
If you're thinking of sowing other vegetable and herb seeds, discover more of our growing guides.
Buy Sage seeds today: