Greetings from Lancashire...
Spring is on its way now and the days are longer but we're still having bursts of wintery weather.  There are some hardy vegetable seeds that can be sown outside this month but check the soil and conditions in your own growing area.  If your space still has cold, wet soil do wait until the temperatures go up before you start sowing.  Otherwise there is a danger your seeds may rot in the soil.  If you have strong winds in your garden, you may also find the soil is too cold to sow in this month – try covering the soil with old compost bags to warm the soil before seed sowing.
---
I've sown Broad Bean 'The Sutton', which has an Award of Garden Merit from the RHS, outside this month as its very hardy.  This is a small variety, only growing 45cm high, so ideal for small spaces.  My seeds are spaced out, 5cm deep, into large planting sacks.  I've put these in a sunny, sheltered spot so they'll get the best of the weather.
---
The rest of my seeds this month will be sown and kept on my windowsill or my unheated greenhouse as my soil is still cold and wet.  Those of you who have read my blog before will know that I'm very partial to Kale.  It's in the Brassica family so has the flavour of Broccoli, and has all same healthy nutrients, but is much easier to grow as it needs less space and can be cropped as soon as it is 10cm high.
This spring I'm sowing Kale 'Cottagers'; these plants have an attractive frilly leaf and are completely hardy and perennial; living through the winter and for lasting for several years.  I've started mine off in my unheated greenhouse and will plant them outside in mid/late April when they are 15cm tall. 
Squash 'Baked Potato' plants will grow quickly so I've started them off 1cm deep in 9cm pots rather than trays.  I've put only one seed in each pot, so there's plenty of space for root growth.  They need temperatures of 20 degrees to start their germination, so I've covered the tray with a plastic bag and have put them in my electric propagator.  Once the seedlings have emerged, I'll take them out of the propagator and put them in my unheated greenhouse, where they'll get more light, but less heat.  As they are half hardy I'll put them in bigger pots as they grow, but keep them undercover until late May.  Outside they need a rich, deep mix of manure and compost in the sun to grow successfully.  They will spread 1 metre across, so need plenty of space.  If I germinate several of these plants, I'll need to give some away at my local plant swap!
This month's tomato is 'Artisan Tiger Stripe Mix', its fruits are an oval cherry shape with stripes, which look colourful and taste delicious in a summer salad.  The plants will get 70cm tall with a spread of 30cm, so need canes to grow up.  They will grow undercover or outside in a sunny, sheltered spot.  As with last month's tomato, I've sown one seed per module and lightly covered them with 0.5cm of compost.  They are in my electric propagator with a temperature of 20 degrees to kick start the germination process.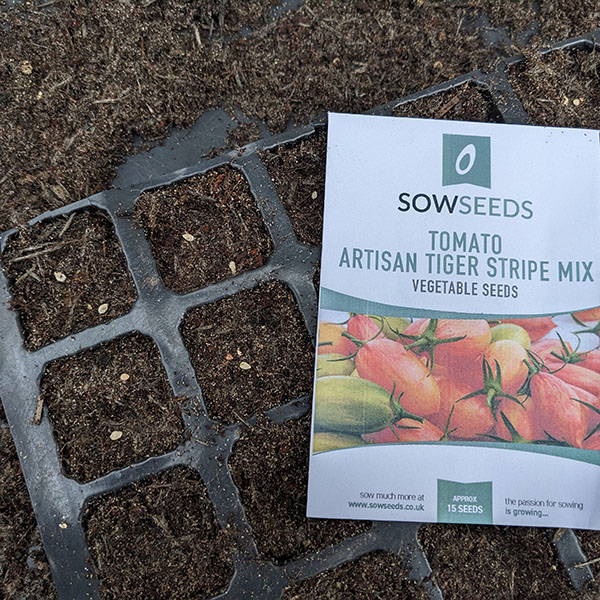 ---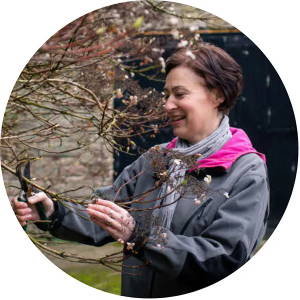 You'll find that there is a wide selection of peat-free seed sowing compost available this spring.  These have improved a lot of the last few years and they are now some compost brands with a good, fine texture that is better that multipurpose compost for sowing seeds.  The various brands have different ingredients, so experiment until you find one you like.
For more inspiration and advice have a read of our March Monthly Sowing Guide and you can find a complete list of seeds suitable for sowing in March HERE.
Enjoy your summer seed sowing!
Read more about Sue's horticultural expertise and projects on her website
HERE