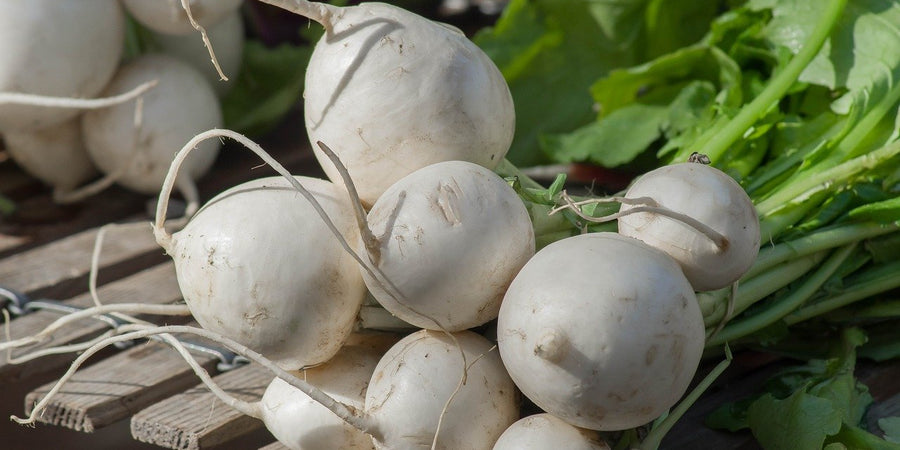 Turnips were once a staple food for the poor in northern Europe. In 18th century Britain, turnips were grown to feed sheep! Until and thanks to a nobleman, Sir Thomas Elyot, who mentioned in his work wrote, "Turnips picked young in early summer are most delicious". These roots are related to a similar vegetable, Swede. But unlike Swede they do not grow to a large size. Apart from the roots being edible the tops make excellent spicy spring greens too.
Here's Our Guide to Growing Turnip:
How, Where & When to Grow Turnip
Turnips prefer to grow in cooler conditions in moisture retentive soil, which has been improved with well-rotted compost. For an early harvest, sow in Spring (March to June), under cover in modules, with germination taking 5 to 7 days when all conditions are met; planting out after 2 or 3 true leaves appear. Sow in clusters late summer for an autumn harvest. They are reasonably quick to mature, 6-10 weeks, so make for a good catch crop.
Distance
Sow direct in clusters of 3 or 4 or plant out module seedlings, spaced every 5cm between cluster.
Regular Care
Young tender leaves are prone to flea beetle attack, cover with enviromesh to reduce attack. Hand weed around the plants regularly, to avoid root disturbance; as well as watering regularly during dry spells.
Harvesting Turnip
Baby turnips can be harvested after 6-7 weeks or allow them to grow larger and harvest at 10-11 weeks before the core of the swollen root gets woody.
Nutrition
Turnips are loaded with fibre and vitamins K, A, C, E, B1, B3, B5, B6, B2 and folate (one of the B vitamins), as well as minerals like manganese, potassium, magnesium, iron, calcium and copper. They are also a good source of phosphorus, omega-3 fatty acids and protein.
Culinary
Turnips are a super alternative to potatoes. Try them baked or boiled in stews, soups and stir-fries. Create super nutritionally charged side dishes such as Turnip and kale gratin, if the Turnip has a good growth of greens attached then they could be used instead of the kale…or go simple with Turnips and garlicky breadcrumbs with parmesan…oh yeah!
Growing Guides
If you're thinking of sowing other vegetable and herb seeds, discover more of our growing guides.
Buy Turnip seeds today: