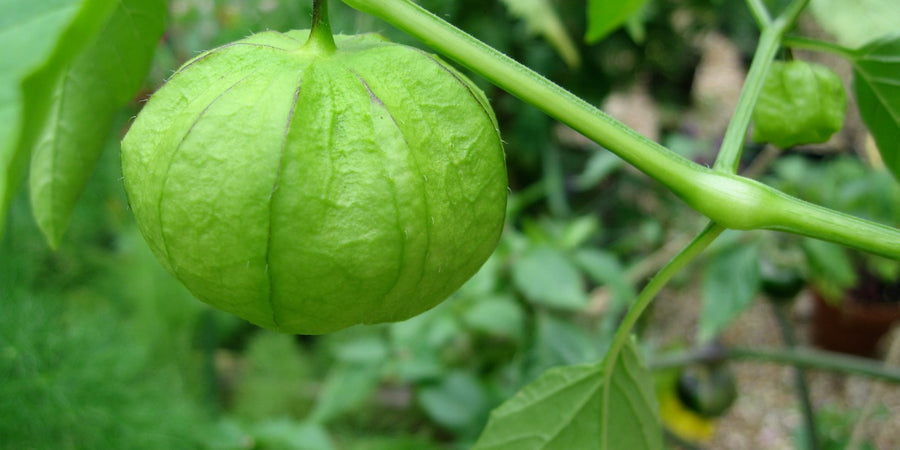 Although the Spanish word Tomatillo translates to 'little tomato'. This fruit is certainly not related to the tomato family. It finds its origin to Mexico and is part of the Nightshade family.
Tomatillo or husk tomato is a fruit within what looks like a lantern pod (husk). As the fruit swells the lantern pod splits, as the fruit swell and papery dry husk splits to reveals a green or purple fruit (variety dependant).
Simple Steps on How To Grow Tomatillo:
How, Where & When to Grow Tomatillo
Tomatillo will need to be grown 2 or more plants for successful pollination. Sow seeds in either seed or module trays, late spring, under cover providing warm conditions for successful germination to take place 7 to 14 days. In the meantime, prepare final planting position by incorporated it with well-rotted compost. Pot on seedlings into individual pots, planting out when all signs of frost has past. Plants do well in full sun as well as in a sheltered position.
Distance
Final planting will require plants grown 1 metre apart to allow plants lateral branches to spread.
Regular Care
Provide support to the main growing stem as heavy fruit can collapse main stem. Support lateral shoots where more fruits will continue to grow. Plants will benefit from a high potash weekly feed with the onset of first flowers.
Harvesting Tomatillo
When the lantern-like husk splits to reveal its fruit, it will continue to grow. Harvest can begin when fruit is golf ball size, cutting off with a sharp pair of secateurs.
Culinary
Tomatillos are used widely in Mexican cooking, taking a starring role in Salsa Verde…In addition, you can use this bright summer staple to add a bit of acidity and sweetness to a variety of dishes, like salads, hot dogs, pork, even eggs. Make a light summer soup by combining Cucumber and Tomatillos for an amazingly vibrant Gazpacho…a super addition to Pico de Gallo as a side accompaniment…and don't forget to sprinkle them on your loaded Nachos too!
Growing Guides
If you're thinking of sowing other vegetable and herb seeds, discover more of our growing guides.
Buy Tomatillo seeds today: