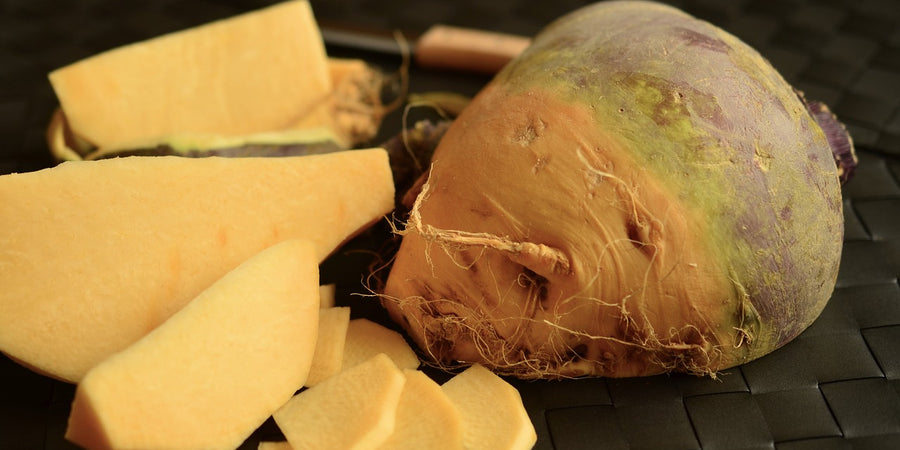 Swede or Swedish turnips often get confused with turnips. In fact they are much larger and sweeter root crop than Turnips. A very hardy root crop, with a long growing season that does not mind being left in the ground until autumn/early winter. Being left in the ground this long; produces sweet-flavour orange flesh after they have been touched by frost.
Here's Our Guide to Growing Swede:
How, Where & When to Grow Swede
Best sown directly where they are to grow. Sowing begins late spring May/June after all signs of frost has past, in drills 2cm deep with noticeable successful germination taking place 5 to 10 days later. Swede vegetable performs well in a sunny site, with light soil and drains freely, but still hold sufficient moisture.
Distance
When easy to handle, thin seedlings 25cm apart with row spacing 30cm apart.
Regular Care
Keep the plants well watered as well as keeping weeds at bay by hand weeding to avoid damaging the swelling roots. Roots can be kept in the ground over winter with a mulch of straw provided around the roots to protect against the harsh winter conditions.
Harvesting Swede
Swedes are a long term crop and can take up to 6 months to mature ready to be harvested when the roots are 10-15cm across.
Nutrition
Swede has a wide range of health benefits due to its excellent source of vitamins and nutrients. This healthy vegetable is particularly high in vitamins C, E, K and B6, as well as being a good source of manganese, potassium, magnesium, calcium, iron, zinc, carotene and fibre.
Culinary
No roast Chicken dinner would be complete without mashed Carrot & Swede, true comfort food…try roasting Swede and then make a creamed roast Swede soup sprinkled with fresh Thyme…whenever you make a curry, remember to add some Swede. A truly versatile and wonderful healthy and traditional veg for so many dishes.
Growing Guides
If you're thinking of sowing other vegetable and herb seeds, discover more of our growing guides.
Buy Swede seeds today: