How To Grow Edamame Beans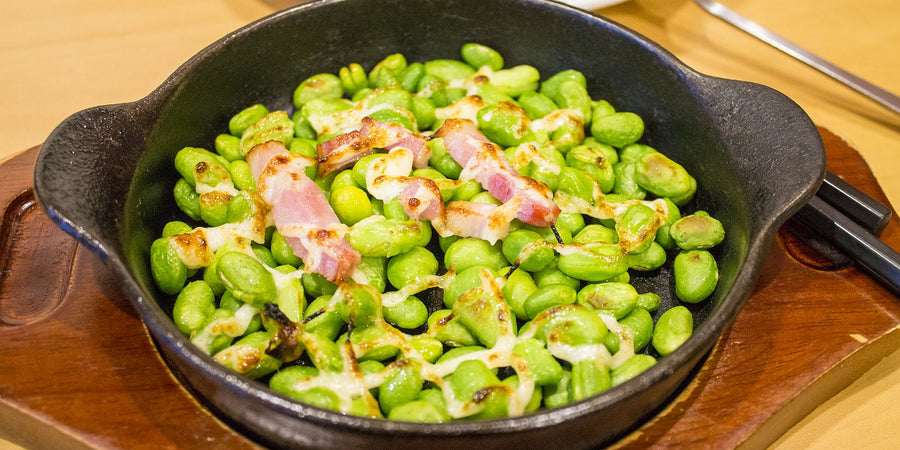 The Edamame bean originates from the Far East. Both have either a dwarf or short growing habit. Beans like Broad Beans are the hardier vegetable and prefer cool growing conditions to thrive in; on the other hand Edamame prefer, early summer, warm to hot conditions to kick start germination and to grow in.
Here's our guide to growing Edamame Beans:
How, Where & When to Grow Edamame Beans
Either sow indoors April to May 5cm deep into pots/root-trainers filled with good quality compost and water well. Edamame Beans are sensitive to heat and will require a constant heat between 15C-20C for successful germination. If sowing in a greenhouse ensure it is heated constantly. When large enough to handle plant seedlings outside 60cm apart in rows 60cm apart. Protect young seedlings from frost with cloche etc. Or sow outside (May to June once soil temp is above 15C) 2-3 seeds per station 5cm deep in rows 60cm apart and keep well watered. Thin out weakest seedlings to leave the strongest one. Support plants by tying to a frame.
Regular Care
To ensure continuous cropping, keep picking pods when the beans feel plump around 9-12 weeks after sowing.
When To Harvest Edamame Beans?
Edamame Beans are best harvested between August and September.
Are Edamame Beans Nutritious?
Edamame Beans are an excellent vegetable source of protein and fibre. This may be a winning combination for weight loss. 
How Do You Cook Edamame Beans?
Beans offer so much more to a dish than just boiling or steaming them. You could try following how the Italians use beans in a low calorie Risotto Verde, try a more unusual way to have beans on toast and try smashed beans on toast for a healthy alternative, or for a light summer meal try a bean and fennel salad…sow many choices!

Growing Guides
If you're thinking of sowing other vegetable and herb seeds, discover more of our growing guides.
Buy Edamame Bean seeds today: