How To Grow Brussels Sprouts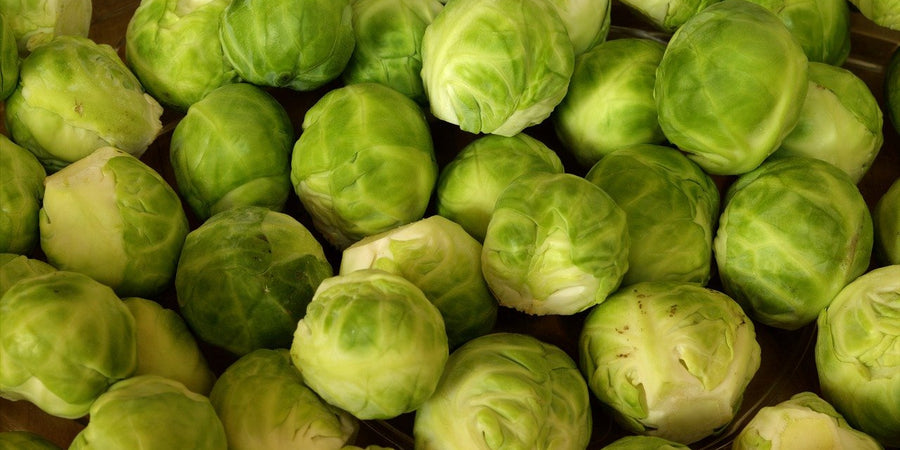 Brussels Sprouts are a vegetable that is said to have been crossed in breeding and true origins are sketchy to pinpoint but 18th Century France put landmark on food, with sprouts pinned to Brussel area of Belgium. A stalwart among winter vegetables in cool temperate climates, they taste much better when harvested from the garden after being frosted than when bought from the shop.
Here's our guide to growing Brussels Sprouts:
How, Where & When to Grow Brussels Sprouts
Brussels sprouts prefer a sheltered sunny site, well-drained moisture retentive soil improved with well rotted organic matter. Sow In spring, start seeds under protection in seed trays thinning out to individual 7cm pots before settling them into final planting position. Or start seeds late spring in seed bed in drills 3cm depth, thinning to 10cm when 3 true leaves have formed and final planting when 5 true leaf strong. They are a slow growing vegetable, and take 26 to 31 weeks to reach maturity. They can be picked fresh from September until February.
Distance
Plant deeply with first true leaves level with the soil surface with 60cm between plants as well row distances.
Regular Care
Water well during dry summer spells and keep plants protected against the cabbage white butterfly. Earth up during the autumn months or provide stake support to plants growing on exposed sites. As they will be in the ground long time and grow into such large fleshy leaved plants, they really need some extra feed during August or September to produce a good crop. A couple of teaspoonful's (10ml) of dried blood or one of sulphate of ammonia sprinkled around the base of the plant would be ideal.
If club root is a problem then try growing a resilient variety such as Crispus.
Harvest
Harvest begins late autumn early winter when sprouts are firm working from the bottom of the stem up. Pick sprouts from the bottom of the stalk upwards, only as many as you need, leaving the rest to grow on the stalk (or harvest an entire stalk)
Nutrition
Brussels sprouts are part of the cruciferous vegetable family. Vegetables in this family provide a wide variety of nutrients and contain few calories. People seeking a high nutrient diet should consider including cruciferous vegetables in their diet. Brussels sprouts provide a significant amount of vitamin K-1 a great source of calcium, antioxidant properties from a high amount of chlorophyll, vitamin C, and naturally low in fat and calories.
Cooking
In addition to being the staple accompaniment to Christmas dinner Brussels Sprouts one of our favourite dishes is cheesy garlic Brussels Sprouts, roast them in the oven with broccoli and bacon in a pasta bake, add them to mashed potato along with parsnips.
Growing Guides
If you're thinking of sowing other vegetable and herb seeds, discover more of our growing guides.
Buy Brussels Sprouts seeds today: